Stories - Lyle and Kim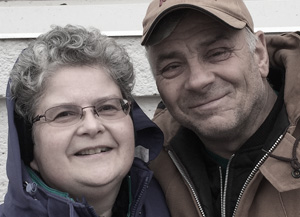 When you travel to Winnipeg for cancer treatments, your life can seem very uncertain. Any comfort of home will help you feel relaxed and allow you to focus on getting better.
For Lyle and Kim, that comfort came in many forms at A Port in the Storm.
"The soup program was so nice because we got to socialize and get to know other guests."
During the four weeks that the couple from Swan River, Manitoba stayed in Winnipeg, they credited the spacious suites and accommodating staff members with their ability to be there for each other.
It's clean, comfortable and safe. It's the best option for families.
While Lyle was undergoing treatment, Kim was able to support him and help take care of him while he wasn't at the hospital.
"Without her, it would have been very difficult" Lyle says. A Port in the Storm allowed them to stay together during this incredibly difficult time. The alternative would have been an expensive hotel with no kitchen and no staff support. Little things like this make us a wonderful option for families.
Both Lyle and Kim appreciated the private bedroom and bathroom and enjoyed having a kitchen to have meals together in. During a four-week stay, they also used the free laundry services and free parking. Each of these things made them feel more at home.
Now, Lyle tells anyone who is in Winnipeg for medical treatment about his stay. "It's clean, comfortable and safe. It's the best option for families."