Stories - Judith and Vern Mann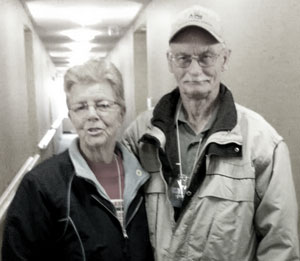 In 1978 my husband Vern was diagnosed with throat cancer. He had to receive his treatments in Winnipeg. He went through three months of radiation and by September that year, he had to have half of his vocal cords removed.
The cost of staying in the city was more than we could afford. By the time it was all over we had no choice but to sell our home. Vern was unable to return to work. The financial burden was awful for us.
It's now November, 2012 and we are back in Winnipeg because Vern has cancer in his right lung. Vern has to get his right lung removed and we just have no money left. Fortunately I was able to find A Port in the Storm, and it has been a God send. The suites are beautiful, fully furnished with a fridge, stove, microwave, queen-sized bed, futon, cable, dishes, pots, pans, etc. It's quiet, peaceful, and just like being at home. It's absolutely wonderful!
Together with my family, I thank you all for what you are doing. I hope the word can get out there and that everyone will donate to help you build your new house of hope.