COVID-19 Announcement
A Port in the Storm remains open. We are taking the necessary precautions outlined by the Government of Manitoba and have reduced our on-site office hours for essential services only to the following:
Tuesdays 8:30–11:30 AM
Thursdays 8:30–11:30 AM
Read our full announcement
What is 'A Port in the Storm'?
A Port in the Storm is a safe haven for rural and northern adults living in Manitoba and Northwestern Ontario. Our goal is to reduce the financial burden of serious illness on those who must travel to and remain in Winnipeg to receive medical care. It is 'a place to call home'.
Ongoing Wishlist
We rely on your generous gifts of food and household items to make our suites as homelike and comfortable as possible.
Your generous donation of any of these items will help during the holidays and beyond. Thank you!
Household Items
Reading lamps
Bedside lamps
Televisions
Bar stools
Coffee tables
Queen Size Quilts & Comforters
Pillows
Towel sets
Kitchen Electric Items
Coffeemakers & kettles
Can openers
Blenders
Food processor
Kitchen Aid mixer
Kitchen Utensils
Dinner sets (matching plates, cups, bowls)
Glasses (water and juice)
Kitchen knives, cutlery
Pyrex baking dishes
Roasting pans
Baking pans (loaf, muffin, cookie, cake, bundt)
Glass mixing bowls
Plastic cutting boards
Glass Storage Containers
Serving utensils (spoons, forks, ladles, spatulas, etc.)
Measure cup and spoon sets
Hot pads/trivets
Oven mitts
Homemade Soup Ingredients
Chicken and vegetable broth
Canned beans
Stewed tomatoes
Canned vegetables
Macaroni
Rice
Comforts of Home
Slippers
Robes
Throw Pillows
Throw Blankets
Travel toiletries (toothbrush, toothpaste, deodorant, shampoo, conditioner, etc.)
Fresh Baking Ingredients
Flour (white and whole wheat)
Sugar (white and brown)
Chocolate chips
Oats
Raisins
Coconut
Assorted nuts
Butter, Margarine
Cocoa
*We can only accept new and unused items
Meet Albert & Liana
When the couple flew to Winnipeg for an MRI, staying two nights in a hotel, they discovered another distressing aspect. "I've always had sympathy for people who have cancer or any medical problem where they have to go somewhere else. Now I have complete empathy, because nobody tells you all the things that come with it."
Donors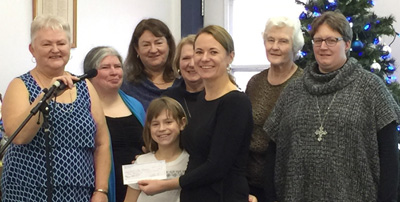 The Harding Community Club raised over $7,200 from various fundraisers throughout the summer and fall. They have chosen to designate their funds to the Adopt-a-Suite program and help keep families together. Thank-you!