We have moved!
We are now located in the West Exchange District (near China Town), about 10 minutes from St. Boniface Hospital and 5 minutes from Health Sciences Centre. Close to shopping and services.
Contact Us Today!
Office Hours
Mon-Fri – 8:30am-4:30pm | Sat-Sun – Closed
Make 'A Port in the Storm' your charity of choice for this giving year.
Donate Now
Meet Karen Ashby
My 77 year old mother's cancer diagnosis was not a real surprise. I had done research on her symptoms. I had been with her for her biopsy. Appointments at Cancer Care Winnipeg soon followed.
Donors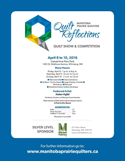 Thank-you to the Manitoba Prairie Quilt Show & Competition for raising over $4,000 for A Port in the Storm!